The internet age now starts much earlier. My got my first computer when I was 10 and it was Radio-86RK built by my father.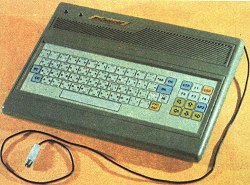 My kid's computer experience is much different: desktop and two laptop computers are basically always available for them to us.
We got a few computer games as presents, but none of them were as good as the kids websites that we found. Here's some of  the more favorite ones
Check out my full list of kids related sites at http://delicious.com/guessman/kids
One of my latest finds was
. KidZui is a browser specifically designed for kids. Instead of working as a filer and preventing kids from going to restricted sites, it is designed to be the one and only application that the kids will interact through. The User Interface is great, very kids friends. Every page is hand picked by KidZui and verified to be Child Safe. This is really a Closed System browser.
Downloading the application from http://www.kidzui.com/downloading is straight forward. I had to install the application, and register myself as a parent. My KidZui account allows full monitoring of what my son views through the program. It will also send me a daily activity report with screenshots of the sites that he visited.
My son was able to pick and character, not only give him the name, but also select what the character would look like. The browser looks excellent. Very interactive, colorful, easy to navigate. KidZui folks did a truly remarkable job. I've put some screenshots of the UI below.
My son loves the browser. He can get around to all his favorite sites by himself. The search bar on top allows to quickly look through all available content.
We still try to limit the amount of time my kids spend at the TV and the computer. But while he's on it, he is totally loving it.